But that problem is finally fixed!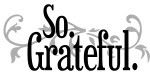 I have been feeling particularly blessed and I am so grateful for
my health.
my children's health.
my husband's health.
my home.
Cameron's employment.
a warm bed.
hot water.
electricity.
friends that keep comin' around!
my parents.
my testimony of the Restored Gospel of Jesus Christ.
Temples.
the power of forgiveness.
The Book of Mormon.
a working vehicle.
the sunshine.
good influences in my life.
opportunities to learn about myself and others
What are you grateful for?