In the book I was torn... but if it comes down to Rob or Taylor... it's no question I'm on Team Jacob! Cast your vote at people.com.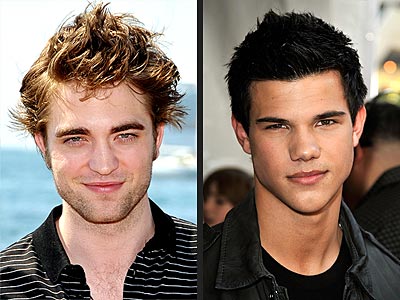 ---------------------------------------------------------------------------------
Brandon Mull's FableHaven. Have you read it? If you're a fan of Harry Potter, you'll probably enjoy it! I love the relationship between siblings, Kendra and Seth! The funny thing is I relate to Kendra... and if you know me, you know I wish I could talk to Faeries!! Seth is a typical trouble-maker who has to learn how to make responsible decisions. Their adventures are (literally) Out of This World! It's a very good read... but don't be fooled, "FableHaven: Secrets of the Dragon Sanctuary" is not the last book! I totally thought it was going to be, but when I got towards the end realized there was no way it was going to have all the closure I needed... Thanks, Brandon Mull! Totally threw me for a loop there! I'm not gonna lie, I'm looking forward to book 5... but I am so anxious! I don't like waiting for the next book!!!