Watched a bunch of movies I haven't seen yet. Mind you, these are not particularly new releases, but I'm curious what you all thought of these as well!
The Other Boleyn Girl
Interesting, but it got really weird at the end. I didn't read the book, but I can only imagine it was a lot better than the movie.
Vanity Fair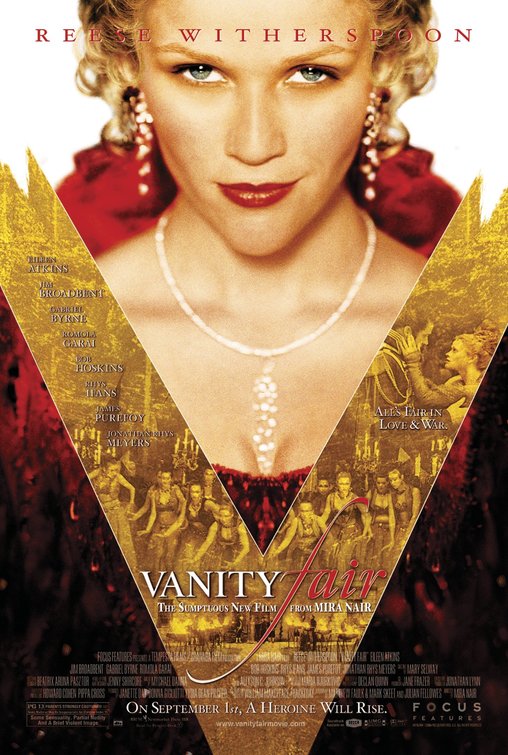 Over all, I liked the lightheartedness of it. I am a fan of Reese, which is really the only reason I watched it, and thought she did alright. I thought it was very sad though. I didn't really "get the message" but the costumes were stunning. I generally enjoy movies from this era.
Bedtime Stories
This movies is probably my favorite Adam Sandler performance. I love Happy Gilmore and Billy Madison.... but I particularly enjoy that I can now watch his goofiness with my children and not have to cover ears or skip scenes. It's Brilliant and well done! Thank you, Disney!
Confessions of a Shopaholic
View Raw Image
" href="http://i37.tinypic.com/zkfmna.jpg" class="thickbox">
I really couldn't get into it! Even with Hugh Dancy! I KNOW! And Isla is darling. But yah, maybe it's because I could relate...?! I've never owned anything Prada in my life. Nor do I have intentions to.
Happily N'ever After 2
I have to tell you, my son is next to me, watching me blog and when he saw this picture he pointed at it and told me "Mommy, I hate that one." Really. He said that. And that pretty much sums it up. It was painful. PAINFUL! Eventually I just left the room to make dinner and had a hard time LISTENING to it! It was cheap. So very, very cheap.
There is something to be said for only watching the blockbuster hits. If it did well in the theater it's probably alright. If it didn't even
make it to the theater,
it might not be worth my 2 hours. I'd rather watch The Bachelorette or So You Think You Can Dance - because
thats
real life, yo!
Seen any good movies lately?!